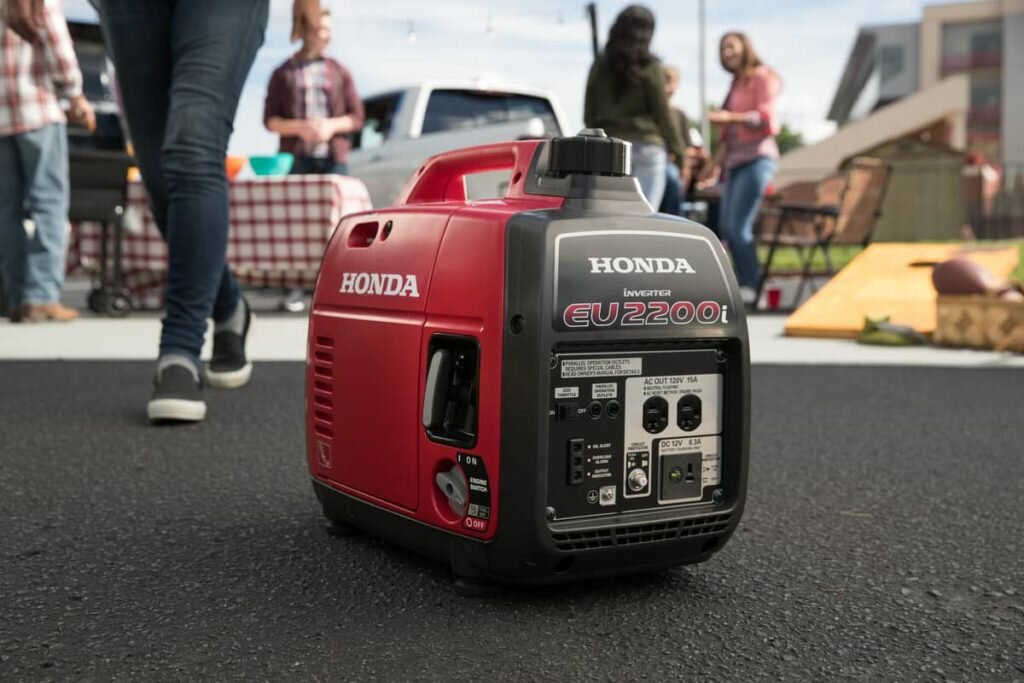 Some may think that Honda will be out of breath one day. Happily, this is far from likely, especially given their past achievements. In early 2018, Honda came up with the EU2200i portable generator, which surpassed all the expectations and turned out to be the best one ever. Now, the model is available nationwide.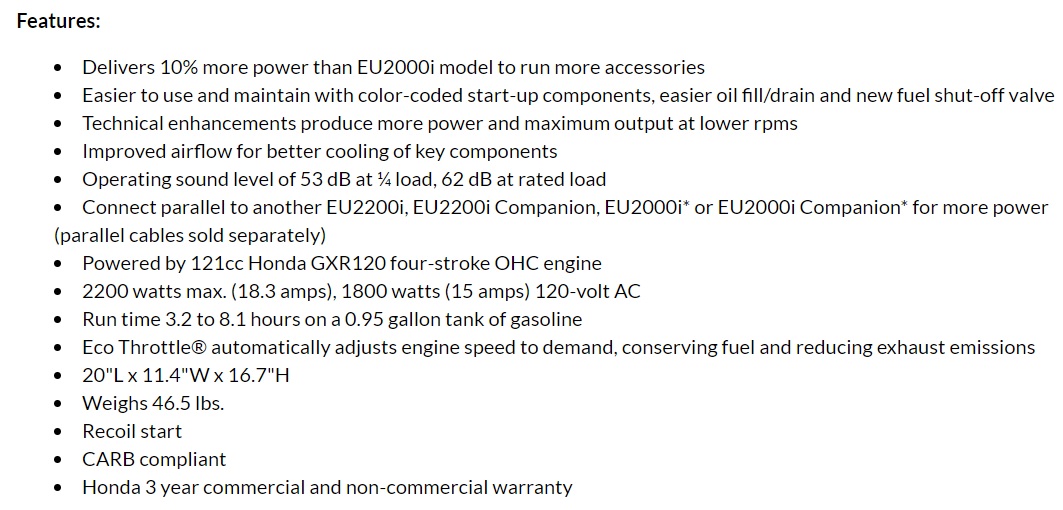 If you are an ardent hiker, traveler, or just want another source of power in your garage or workshop, this is something you really need to have.
Advantages:
Price: quite affordable;

High capacity with minimal noise (compared to many others);

Compact and lightweight;

Low maintenance;

2 years warranty.
Over the past 20 years, since the inverter began to be used in portable coverings, this compact generator lineup has pretty much given the Honda brand its current popularity. The compactness has not lessened the power capacity, and it remained close to the line power level. That is something none of the non-inverter generators of that time could handle. Today, in addition to the integrity and reliability, the generator boasts of exceptional user-friendliness, compactness, and portability. These qualities make the temptation irresistible. Over the years, Honda has come a long way towards building the now culminating EU2000i. There are good reasons to consider this new product a treasure since it is the most powerful, durable, sophisticated, quietest and reliable one ever. The generator shows terrific performance with minimal noise. Years of successful marketing testify for the product's quality and reputation.
Would it be possible for Honda to stay up to the mark for years to come? Will EU2000i continue to please its growing clientele without stopping to progress. Yes, they will. To do so, they should continue to grow and come up with an even better piece. And they do. In the spring of 2018, the next modification – the EU2200i – hit the stage. This one shows a 10% higher power capacity than its predecessor. In addition, EU2200 boasts of a handful of new advanced features, which place it above all other similar generators. Particularly, it features an automatic fuel shut-off valve, a new (stress-free) type of oil fill/drain system, and many other innovative elements and systems, which improve its productiveness and maintenance.
Honda became renowned for its silent generators since it came up with the EU1000i, which was a revolution. The company continues to use the technology in its today's modifications and demonstrates that there is always room for improvement. Honda generators present a wonderful combination of performance, durability, light weight, compactness, good looks, and power.
User-Friendly and Easy to Handle
Let's check if it is.
The generator features a huge mechanical de-compressor designed in such a way to let you start your machine with minimum effort on your side. An outstanding noise reduction system (max 5 dB(A)) gives you the peace that none of the generator's existing counterparts would make it possible when operating in the full-power mode. In other words, you can launch it and do some brainwork without feeling bothered or distracted.
The EU2200i generator is very lightweight (less than 47lbs), and, therefore, quite portable. Thanks to its compact size (11.4" x 16.7"), it poses no problem when it comes to placing it safely and comfortably. The automatic shut-off valve is activated when the device is filled or drained. An oil indicator tracks the fuel level and commands the system to stop once fuel gets critically low. No human action is required! Despite its compact size and limited weight, the generator has a .95 gal fuel capacity and boasts a runtime that is 10% higher than that of its predecessor (EU2000i). It is powered by the fuel-efficient and quiet Honda GGXR120 Commercial Series engine. This generator is very easy to handle compared to its earlier versions because it features a number of cutting-edge solutions.
Powerful and Effective
The generator's excellent power characteristics account for its highly effective engine (GXR120). It is already famous for its fuel- and noise-efficient operation and small dimensions compared to other engines (121cc). This combination of small size and exceptional efficiency creates an unbeatable mix and guarantees stable power output for the EU2200i. Another great thing about this piece is that it was designed as a heavy duty item, so it boasts unquestionable performance, durability, and integrity.
Particularly, this generator has an AC output of 120V/2200W (18.3A), and a DC of 12V/100W (8.3A). The range makes it possible to operate electronic devices and household appliances, such as refrigerators, freezers, microwave ovens, PCs, vacuum cleaners, blenders, TVs, DVD players, hair dryers, lamps, etc.
One more trick that explains EU2200i's great power output is the parallel connection feature, which enables you to pair it with another EU2200i or EU2000i K1/T1. This is a very convenient way to double the power output and get several devices to work for hours. The option can be very helpful in extreme situations, which may occur in case of electricity shutout.
Maintenance Friendly
If there is a generator that can be characterized as the best Honda super quiet portable generator, it is the EU2200i. It owes its noiseless performances to advanced engineering solutions and compact body. In addition, it is the easiest one to maintain in the lineup, and numerous user comments testify to that. Indeed, the designer team placed a great emphasis on user-friendliness and low maintenance. It does not require any specific knowledge, so every user can maintain their generator. Perfect combination of simplicity with effectiveness!
The EU2200i generator features a relatively large oil filler with a long spout. This kind of design guarantees quicker, safer and cleaner fueling. In addition, it has a larger oil drain, which speeds up the oil change process. This kind of design ensures easier cleaning and less contamination.
An advanced fuel shutoff valve stops the engine once it runs low on fuel. Otherwise, it would necessitate switching the device to the fuel-off position, because it will prolong the life of the generator's parts and systems. In EU2200i, this function is automated, which makes handling very convenient and effortless.
Thanks to the metal recoil rope, the generator is longer-lived and less sensitive to physical damage. The body can withstand a significant impact. The starting mechanism is easy to use for a novice because it has color-coded contact points.
It is possible to achieve high performance by pairing this generator with another one, which may be different. The option rules out any possibility of a breakdown. It does not take a lot of experience or prior knowledge to operate it. Just a couple of pre-guided tasks will be enough to understand how it works. This generator pairs with that of the same modification, as well as with earlier ones, such as EU2000i K1/T1 and EU2000i.
Thanks to the 2.31 sq inch ventilation area, the machine is fully secure against overheating. Therefore, there is hardly a possibility of damage to the inverter. The ventilation system was improved by adding extra ducts, which provide for a more intensive air flow. Overheating is the ultimate evil for any device, as it reduces the components' life significantly. The design team has done its uttermost to reduce (if not rule out) the risk of heat damage. Needless to say, the overall performance has improved.
To sum it all up, the EU2200 has all its systems upgraded. The device requires a minimal amount of human interference, as everything here is pre-defined and automated. This generator is truly intelligent and extremely user-friendly. Please, check the user manual.
Warranty Policy
Warranty pretty much singles this generator out from the rest of the family: EU2200i comes with a three-year warranty, which covers both commercial and residential use. This is another good reason for an owner to feel confident about his or her newly obtained device and for a potential buyer to choose this particular model. One of the most important things is the necessity of purchasing it from Honda's authorized dealer. Thus, you will have all your problems solved for three years ahead. Being sure that you will get help if you need it is very important. There are reasons for the Honda team to believe that during the next three years you will not have to use any help because your generator will work like a clock!
Is it Affordable?
It is not just the price that says whether or not a thing is affordable. Let's see what we have with the EU2200i generator and draw conclusions. First, the device comes with a top quality engine with a generator placed in a compact housing (20.0″ x 11.4″ x 16.7″). Second, its body weight does not exceed 47 lbs. Third, the engine is all but noiseless. Fourth, it comes with a three-year warranty. With this combination, the price of $1,149.95 does not sound extortionate at all. Given all these factors, the model is cheaper than the previous one.
Comparing 3 EU2200i builds
EU2200i
The device has the following characteristics:
Runtime: 3.2 – 8.1 hours;

Fuel tank volume: 0.95 gallons;

Capacity: 120 volts/2200 watts/18.3 Amp.
Besides, the generator features Eco Throttle®, which slows down when necessary. The automatic shut-off option stops the engine when it runs low on fuel. Last, but not least, is the low noise characteristic.
EU2200i Camo
EU2200i Camo has all advanced features that are included in EU2200i. The only difference is the Realtree APG wrap, which adds a bit of aesthetic value to the new version. The red color is replaced by a camouflage pattern, which makes it more suitable for outdoor use.
EU2200i Companion
This one is a little more technically advanced than its predecessors. Particularly, it does not feature the 12V DC outlet. Instead, there is a 20A/125V Duplex Outlet with a 30A plug and a 20A/125V single outlet. This modification boasts of greater fuel and noise efficiency.
Compared to the EU2000i
There is one thing you should note: EU2000i is no longer made by Honda. That is why it is hardly possible to buy a brand new piece. Second, as follows from the above, EU2200i features a more advanced and feature-richer engine GXR120 instead of Gx100. EU2200i has a 12V DC output, its capacity reaching 8.3A (100W). EU2000i cannot boast of these characteristics (12V, 8A (96W) respectively). In general, EU2200i outruns EU2000i in all aspects by around 10%. Thanks to the extra 200V, the new modification enables you to power several devices simultaneously. Given the capabilities of EU2200i, it appears to be less expensive than its previous modifications. Also, the generator has a more efficient ventilation system, as it has a little bigger ventilation area than the EU2000i and EU2000i Camo. It will keep it functional even at the highest RPM without a possibility of overheating. The EU2200i is a little heavier (47 lbs vs. 46 lbs), and a little noisier at top speed (62 dB vs. 59 dB) than its predecessor. It should be noted that both machines start from the noise level of 53 dB. However, 3 dB and 1 pound is no great price for the 200W power capacity. Given the advantages described above, these tiny shortcomings do not matter at all.
Conclusion
Just a brief sum-up of this information testifies to the fact that the EU2200i is Honda's most tremendous creation. The new portable generator is a testimony to Honda's unflagging striving for perfection. The Honda team has proved that they are second to none in making portable generators, which are galore in the market. They have demonstrated the most efficient way of generating "line power" at the same time, plus the three years of warranty, both for households and enterprises. Last, but not least, is the parallel connection, which enables you to pair two generators and power a larger number of devices and appliances simultaneously.
How Do I Purchase the Honda Generator?
This generator has been in the market since early 2018, and now it is available at $999 on Amazon. This is the retrial price. As you can see, it is less expensive than the EU2000i, its previous version. There are different ways for users to obtain this machine. It is possible to directly buy it at Honda store or order it online. The most important thing is that you must be sure that you are buying from an authorized dealer. This will help you avoid warranty issues. Also, you can buy it at a Chinese online store, maybe with a good percentage off. It would be more advisable to use Amazon because they are renowned for their excellent customer support and do their uttermost to provide warranties. Honda generators that are available online are sold at an officially set price, and some offer discounts. Buying a good product at a good discount is always great.
Generator's Features
Honda EU2200i has a 10% greater power capacity than any of its predecessors. Because it is more powerful, it can keep a larger number of electronic appliances running at the same time. This is something that only this model can handle. The generator can be used effectively indoors and outdoors.
The Honda GXR120 Engine is a heavy duty one. It is designed in such a way as to withstand harsh weather conditions and remain operational in all types of the environment. Particularly, it produces 2200W of power and can get your generator working non-stop for several hours.
Right after its inception, the EU2200i engine impressed users with a quick and smooth start, as it wouldn't hitch for a second. It features an automatic de-compressor, which uses less force to launch the device.
The Honda team is well aware of the noise issue, which is common to all generators to a certain extent. In this aspect, Honda has made a leap forward: the EU22200i generator produces a moderate hum, which sounds like two people talking rather than a motor roaring. Therefore, this generator is great for home use.
EU2200i is a very lightweight type of generator, as it weighs 47 lbs only. It is one of the most portable types of generators because it is very compact in size and does not pose any transportation problems.
Thanks to the advanced Eco-Throttle feature, this generator has gained a reputation of the most fuel-efficient ones ever. Just one gallon of fuel will keep it running for more than 8 hours.
The parallel connection function enables you to use two generators at the same time. You can pair your EU2200i with the same or EU2000i. Thus, you can create a truly generous source of power!
The fuel shut off function ensures that your generator will stop once it runs low on fuel. Just be sure that you have switched it on. The option will help you avoid mechanical damage to the generator parts and remind you to fill the tank on time.
The EU2200i generator features a circuit breaker, which is activated automatically when there is a power overload and switches it off immediately, thus, preventing serious damage.
The generator features a kind of inverter, which adjusts power in accordance with the type of device being powered. Particularly, it will help you set the generator up for safe powering of mobile devices, laptops, and other sensitive items.
If you purchase the Honda EU2200i from an authorized dealer, it will almost certainly remain operational for three years. If not, you will be able to use professional help for free. The generator comes with a commercial and residential warranty.
How it Competes with Others
EU2200I or Westinghouse Igen2200?
Honda EU2200i has to withstand a tough competition, as long as there is the Westinghouse iGen2200. The latter has been around for a while and is favored by many generator users.
Power Parameters
These generators are on an equal footing in terms of power. However, when it comes to the parallel capabilities, EU2200i takes the lead. This function enables you to use two generators simultaneously and double the capacity.
Noise Characteristics
These generators show similar noise levels from the standpoint of load levels. However, the Honda does have the upper hand, as it is known for its ability to reduce noise to 48 dBa. This sounds like a big plus, especially when it comes to using it in public places.
Power Outlets
Both generators feature 120V power outlets, which make it easy to connect them to the majority of home appliances and devices. However, the outlets are different: the Honda features a DC battery port, while the Westinghouse has two USB ports. There is no exact telling, which is the best option. Most likely, it is up to users to decide which one suits their needs and purposes better.
EU2200I or Briggs & Stratton P2200 30651?
Honda has to share the market with other brands as well. Briggs & Stratton P2200 30651 is another competitor.
As to the characteristics, the Briggs & Stratton handles 1700 running watts. The EU2200i can handle 100 more watts at 1800 total.
Noise Characteristics
In this field, the EU2200i takes the lead with its 48-57 dBa against the 59 dBa of the Briggs & Stratton P2200 30651. Although the difference does not seem great in figures, it does make a difference when it comes to using the device near an irritable neighbor's home.
Power Outlets
Power outlets and setups are the same for both generators.